The Great Lakes Award has been around since the beginning of MARA. Merely work eight States that touch one of the Great Lakes, plus VE3 in Canada, and your on your way to a real sharp certificate. Part of it is pictured above, but only so you get an idea of what it looks like.
Simply download the Adobe PDF file below, by clicking on the ship, print it out and follow the simple rules. The address and requirements are included on the form.

Update March 2013:
Please accept our sincere apologies for downsizing the M.A.R.A. Great Lakes Award. The original document measured 14in. x 11in. Because of the postage cost increase we stopped using the tubes and decreased the size to 10 x 13 inches so that we could use a standard size# 5 bubble envelope, that worked fine until March 02,2013. I went to the post office to mail award #299 to DE1KKG in Germany. The postmaster told me the envelope was ½ inch to long for regular 1st class and would cost $9.79 to mail it to Germany. I purchased a software program so that I can now fill out the award and print it myself. One good thing is now it will fit in a 8×10 inch picture frame if desired. (With a little trimming)

It is still a nice award and fairly easy to acquire. The cost will remain at $6.00.

With regrets. Larry KC8KVR – Awards Manager
Our Awards Manager, Larry KC8KVR, is waiting to hear from you.
If you have any questions, please feel free to E-Mail Larry.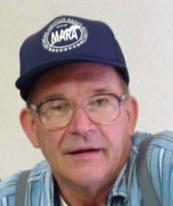 GOOD HUNTING!
Page Last Updated: November 3, 2013 at 10:20 am